IF YOU KNOW NOTHING ABOUT DNA
We offer the following analogy:



At the beginning there was nothing but instincts.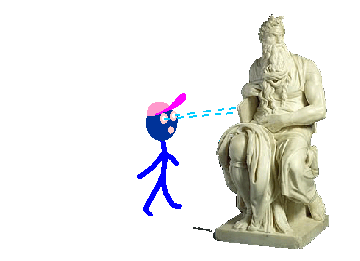 Then, humanity acquired the art of writing. This was the initiation of the Letter.


One can imagine Moses sharing the TABLETS with attentive people who understood the LETTERS of the WORDS.


So before the knowledge of Genetics, it was understood that life was ruled by a set of Laws, usually in the form of written edict.

The knowledge of DNA represents awareness of a Code - that is: a set of Genes operates as a whole to determine life characteristics. (the Genes replace the WORDS, and the LETTERS are reduced to four molecules)
From Significand to Code :

After a while, people gain an insight into the chemical regulation of life.
The picture shows the person turning his head to look at the laws of Nature with a new awareness - while his mentor can be releived of the weight of the Tablets.



Now you know was DNA is about.
It represents a stage of awareness which expands self-consciousness to an understanding of the regulation of Nature by the logic of Code. It is a great step which can be compared to the evolutionary awareness of the code of political Democracy.
While it release from the need for a hero, DNA remains abstract - for nobody has never seen its molecule alive. Microscopes and analysis always deal with an inert samples. The famous Helix is simply a theory - a model - of what is supposed to take place in the core of each cells of every living organism.


So, if you want to continue to know more about DNA, you may visit
a deeper investigation on the theory side
or
two pages which explain the two fundamental precepts of this theory :
(under construction)
THE DURABILITY OF DNA -&- THE ACTIVITY OF DNA
If you are more a Sociologist than a Biologist,
the above illustrations are also a good introduction to
THE MEANING OF DNA
Ecological and Social function.



© CYBEK of New York, 1999.