1st Web Edition Nov 96 - Revisited Feb 98
VELIKOVSKY
or
The Representation of Time
About Velikovsky, I would like to suggest something - which has been quite powerful to the psychiatrist R.D.Laing. I'll attempt to define Velikovsky's domains and limits:
* * * * * *
Velikovsky's general work covers the reading of archeological artifacts which he connected with natural facts (events). Basically, he interpreted some ancient texts (written between 3,000 and 800 B.C. - red square in graph sub) as depicting astronomical or cosmic events (yellow triangle in graph sub) that would have happened at the very same time they were written.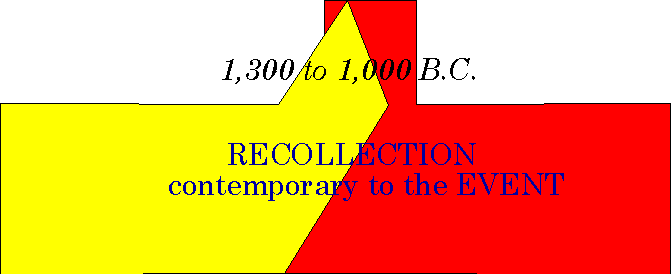 Velikovsky's banished thesis
Apparently, those texts and artifacts were indicating injections of planets into the solar system, causing the shifting of orbits and cosmic catastrophies which would have thus happened between 3,000 and 800 B.C.. This thesis, although famous for a while, has been opposed and ridiculed by classical scientists who argued that such cataclysms would have laid much more conspicuous tracks than simple texts; eventually, Velikovsky was banished from the academic community.
Besides this dispute, a limited observation must be added about Velikovsky's studies. He described Oedipus and Akhnaton as separate and independent from the rest of his work. It concerns some artifacts/writings from 400 B.C. (red square in graph sub), the content of which was usually considered as mythological inventions; Velikovsky showed that they were recollections of earlier events, precisely about 1300 B.C., according to conventional chronology, or about 700 B.C. in his revised chronology (yellow triangle in graph sub).
in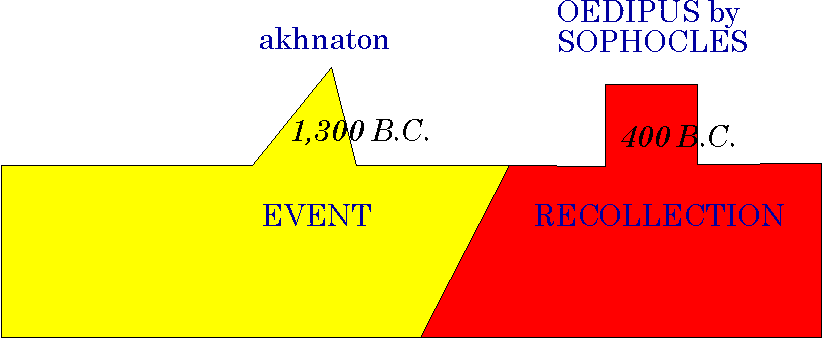 Velikovsky's admitted thesis
In a short observation titled OEDIPUS AND AKHNATON, he explained that the story of Oedipus, written in Greece principally by Sophocles (400 B.C.), was the genuine historical record of the more ancient story of the Egyptian pharaoh Akhnaton (1250 B.C. conventionally).
For a while this thesis was neglected; for, like 'the baby with the bath water', it was thrown away with the astronomical thesis; but in private circles, specialized in Academics, it was admitted that on the Oedipus-Akhnaton point, Velikovsky had probably been right.
* * * * * *
The issue of 'time misplacement' is frequent in the history of knowledge. A good example of this is Casaubon's dating
which put an end to The Renaissance. It is re-enacted today with Osman's mistake, which bargains for Moses' identification in exchange for Jesus Christ's historicity
. It indicates a common objection of Time relativity being at the foundation of neurosis, and demands an analysis.
As it is often the case, this frequent symptom or resistance shows up with Velikovsky as a problem of memory, particularly 'framing' of memory periods, and distinction between facts/events with their representation/recollection. A formula
inspired by Lacan may help to see it as a linguistic issue.
For instance, Velikovsky was right when noticing that Sophocles probably wrote an historical report of an earlier event. For some reason, he did not make the same discrimination regarding the astronmical field - in this case, he collapsed the Event and its Recollection, as if he had not noticed that Ancient Scriptures almost never describe their present time.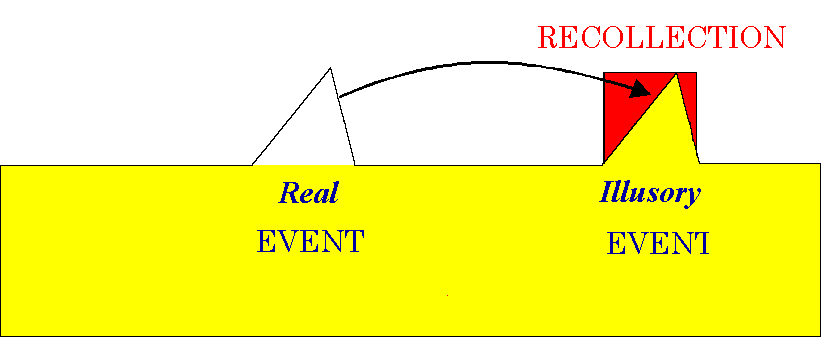 How Velikovsky's astronomical thesis should be read
Today, when noted academics and astronomers are questioned about the possibility of planetary shifts and collisions (as described by Velikovsky), they answer that it could have very well have happened in early periods of the solar system (millions of years ago). Velikovsky's astronomy may have been correct ,except for the part regarding its recollection during the recent (in comparison) period of early civilization.
If we make abstraction of the advantages that Velikovsky exploited in his mistake (in the upheaval of his time distorsion, Velikovsky could bring Akhnaton as a contemporary of Solomon, King of Israel, and thus posterior to the Exodus and Moses. It may be our turn, today to make use of this blunder which nonetheless was evidently shouldered by serious arguments
), there may be another interesting lesson which comes with his dispute with his colleagues:

I shall write the following
in smaller fonts, for it may be abstruse,
and I wish to help certain readers to avoid losing 10 minutes;
since it may take 20 to dig in with me into the 20 year lesson of Velikovsky.

When Velikovsky read Babylonian, and other, tablets depicting an upheaval and a planetary shift - he thought that the catastrophy happened approximately at the time when the tablets were written. His prejudice may be understood for, if the ancient astronomical reports were historical records, Velikovsky was encountering a double problems/question.
Firstly, it is probable that all kinds of troubling events (social or even geological upheavals) had taken place during the writing of the artifacts - and they would be explained as repetitions. For the recollection of an event may necessarily require both its re-enactment and its writings.
Fact - t.0 > > > Rep - t.1 ... Rep - t.2 ... Rep - t.n (Letter/Writing)
In this, a certain depth in memory opens. Written recollections would constitute and partake within a so-called History (which would span a human's identification of his life). The unique nature of time would include a series, and/or a similar event happenings- and within such plurality, repetitions may be of various kinds (metonymes and metaphores, which would only be accessible in a plural analysis). One calls the whole a paradigm, that includes its own representation, and can be identified only through a Code
.
This leads to a more problematical second question. If Velikovsky has discovered a memoir instead of a live report, it would mean that by 2,000 B.C. (more or less) mankind proved it had a memory of events which happened 20,000, maybe 200,000, or perhaps 2 million years ago, or even more. This is clearly shocking; for this would mean that during the time of the earliest animals, up to the contemporary 'high-tech' species, a memory could have been kept in a written series - our notion of history and/or mankind could be thus revisited.

I have warned the reader that I was not going to tackle an easy matter
- and I must stress my general meaning at that point.
As science shows, in fact, any deep study about memory and remembrance must span a process which goes earlier than/beyond homo-sapiens, perhaps earlier than/beyond life itself. But such a vast structure of memorization seemed impossible to be contemplated by Velikovsky. He may have lacked certain tools or stimulations which have recently appeared - at the end of the twentieth century - as, for instance, Artificial Intelligence. There we would acknowledge a typical psychological and sociological symptom : as the miraculous new-technologies prophesied by the patron of Alchemists, were imminent, the resistance against Trismegistus' disclosure concurrently reached its utmost level- and the early actor of the re-establisment of the Triple Great Egyptian King
, gave in to the intellectual inhibition which backlashes against the reliever of the Freudian repression.

Instead of swiftly succeding in a triple identification of Akhnaton, Velikovsky was crippled in a mutual exorcism with his accomplices academics. Anthropology (N.Simms) describes such 'cross-step dance' that mankind shoulders under symbolic surdetermination. Velikovsky exposed a collapsed theory of astronomical recollection, providing grounds for ostracism, while the understanding of Time & memory process was distracted. Meanwhile, 'waging the comet' (re: Waging the Dog), was re-setting the repression of a Name. These two cross-processes enfold a crucial point, as shown in a psychoanalytical formula (especially the lacanian figure,
which shows the social relationship - i.e. Velikosvsky and his disparager - filtering or repressing a key Subject).

At this criss-cross framing, the enigmatic principle of the Letter is located, and confirmed as the repressed Subject by Velikovsky reveals it :
The examination of Velikovsky's OEDIPUS AND AKHNATON confirms, indeed, this logic - for Velikovsky's resistant disclosure of Akhnaton-Oedipus repressed a 'Moses dimension' ; and the latter is known for being especially involved in the delivery of 'Tables of the Law' manifested in an Alphabet.

We are now at the point of a better definition of
what was involved in Velikovsky's complex career;
e.g. the topic of linguistics.

Velikovsky, who went through psychoanalysis in Vienna as a student of Freud, was well aware of the stakes of the Oedipus Complex theory, and he knew very well Freud's interpretation of Moses' history. When he paid homage to Freud in the last chapter of his _Oedipus and Akhnaton_ he knew that he was calling for the one who had repressed the biological/historical identity of Oedipus.

The repression that ancient legends have some basis in fact looks like the repression of subtance in causes - or materiality of Letters. For instance, one may think that letters are essentially like ideas or concepts. But one may say on the opposite, that letters are 'objects'
as much as Oedipus was an historical/biological body (by this I mean that the Letter could stand prior to the Language, as a body preceeds a person - that is a scientific common sense that can be nevertheless repressed).

This way we may begin to admit contrary to Velikovsky, that his chaotic astronomy was (written) far earlier than two or three millenium B.C.
We may also notice that Linguistics, of the Scientific Ages, also emphazises less the promethean gift of the alphabet - and its subsequent gratitude as it was expressed in religious hermeneutics - than the simple fact that the letter is used by the people. This will complete the general understanding that Velikovsky's debate presents the memory riddle that mankind encounters when it faces its representativity.
With this solid coherence we can tackle an original debate, which took place during the social upheaval of the revolutions in Western History. It opposed Champollion (Classical Egyptology) to another Parisian linguist, Fabres d'Olivet, leader of the Felibriges, who re-opened the Hermetic learning which had vanished with the Renaissance two centuries before.

From a certain point of view, Champollion gained victory since he repressed the re-emerging of the ancient tradition. Yet that 'repressed', which is re-acknowledged today, presented already with Fabres interesting prospects:
Against Champollion, Fabres d'Olivet saw the Hebraic letters (given by Moses) as the Secret Egyptian Hieroglyphs. While Champollion was showing that the Egyptian hieroglyphs were letters, d'Olivet claimed that the letters/characters (Hebrew) were hieroglyphics and thus included within their structure a graphical/pictural organization which gave access to a much more profound and archaic meaning.

It is the first step in revealing how the 'scripture' was able to conceal a meaning and memory, which could span a much larger dimension than its classical system range. Yet, is it reasonable to extend this hypothetical dimension even beyond the admitted epoch of humankind? How could we cross the gap, and conceive that the letter conceals the activity of the biological and animal Ages of the planet prior to the human race ?.
Two interesting web sites may help in regard to these questions. One
is complaning that the other
has usurped his copyright - but rabbis are known to have problem with Moses copyright also, and it is even more symptomatic since this former exposes remarkably well an argument in favor of a pre-personal and pre-language letter. The latter is also doing a nice and useful work. They develop a compelling demonstration which describes each and every Hebrew and Western Letters/alphabet as the projection of a unique and universal matrix. If they are correct, it would mean that textuality has begun with the universe. One would have there an excellent argument, at least in regard to the long term record in Velikovsky's reading.

From this point of view, humanity is not inventing the letter to express its speech - but usurps what is preceeding, and perhaps causes, it. However the two referenced authors there do not integrate the Triple identity of Hermes Thot
. They are content with the mathematical perfection of the 'matrix' (letters) and deduce that their series (alphabet) must also be universal. This attachment to the ideal is a mistake which prevents them from making a realistic conclusion.

If the theory of the Eternal letter is correct, it is much more powerful in comprehending that its significant organization (series) bears the singularity of his temporal route - so the civilization's alphabet bears the modeling incidents of the history of Earth.

This may not be the whole,. nor even the correct, truth about Velikovsky;
but it suffices if it shows the depth of his possible contribution
in a most profound matter, that is Akhnaton's recognition.
It may also allow us to conclude with another step further:
Our observation asks for considering a crucial phase of our knowledge.
We must recall a principle, supposedly assumed by Francis Bacon at the foundations of Modern Science. Basically, the rejection - even repudiation - of certain dimensions of the quest would be required in order to keep a practical efficiency in the learning of the world. Namely, Bacon would have rejected such aspects as the Copernician Solar monocentrism, the magnetism hypothesis of Gilbert, and the Hermeticism of Bruno (who supported the return of an 'Egyptian Religion').
Yet, those ostracisms only indicated a level and a dimension of a method for teaching the masses. We reach today a frontier where restricted science must reconsider those technical limitations. Velikovsky's episode, for instance, shows this classical scientist stumbling against the mechanisms involved in memorization. He wrote as if he lived in a world where Historians would not study the laws of memory themselves !
This is not the case, since Psychoanalysis may not have been a failure.