visit

"SPINNING THE WHEEL"

Author : Zenon Kelper


visit
---
During the Renaissance, G.Bruno disclosed and initiated a major improvement in the Art of Memory.
The terms to be applied on the places, were described as structured,
so (by maintaining their structure) they could operate a circulation/rotation.
In Bruno's models, the Terms' structure (letters of an alphabet, set of a zodiac etc...) were thus adding on their correlative set of places a new potential of the memory function, The step was so remarkable that the historian F.Yates did not hesitate to suggest that Bruno was already describing, by the Renaissance, the first models of Artificial intelligence.
During the 20th century, the logical dimension established by Bruno, has been reinforced by J.Lacan's introduction of Cybernetics in the Freudian model. The artificial memory of the Terms' structure allow then a definition of four castes, discourses, classes which results with the use of writing (Tables of Laws for expl) in a human collectivity.

As the Alchemist's Art of Memory (early Science of Artificial Intelligence)
Lacan's formulas depict the rotation of linguisitc Terms on Places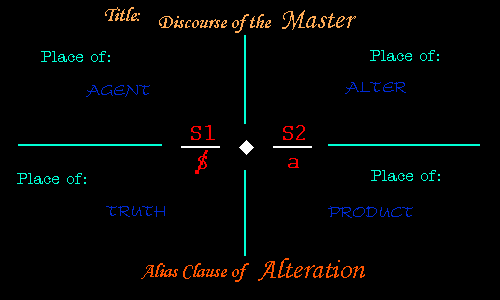 This motion is theorized as a blinking, or leaping process (refered to the structure of a split) alternating Lacan's two Optical phases - e.g. Optical models, phase 2 alias Psychoanalytical or Republic & phase 1, alias Ecology or Democracy.

This is ritualized in PLAN whose operation causes this circulation in the fringe of a group, thus renewing its places and restoring the identity of its members.

In concordance with its Psychoanalytical origin (talk and memory therapy), this formulation ( Plural Analysis) reinstaure the Art of Memory divulgued by Simonides (end of Athens), transmitted by Cicero (Roma) and by Giordano Bruno, the last Hermetician at the Renaissance.

END OF THE PAGE
---
FOOT PAGE
EXCHANGE IDEAS, IMPROVE KNOWLEDGE

In association with the present www.akhnaton.net
CYBEK and www.dnafoundation.com offer
Registration to a Mailing List - free subscription
Where you can send and receive messages to and from the readers.
It also kep you informed with the updates of the sites
Membership access area - one time $15 fee
Where you can purchase and download e-books & e-documents
You can also follow the e-book THE VEIL in progress,
get in contact with Z.Kelper and other services
All transactions are secured
To send an email at Zenon Kelper


HOME

MAP of site

Comprehensive URLs List

MOST visited

DNAge

Membership



© William Theaux 1949-1999