visit

MEMORY
ART & APPLICATION

Author : Zenon Kelper


visit
---
In the world of cybernetics and genetics, PLAN contemporarly maintains the Classical and traditional Art of Memory.
In the Athen's representation of this Art, a hierarchical banquet gives place for a communication between two plus an exterior, and results into a reference for Memory. This antique initiation to scanning the Real showed a circulation which is represented in PLAN's activity and (logo) :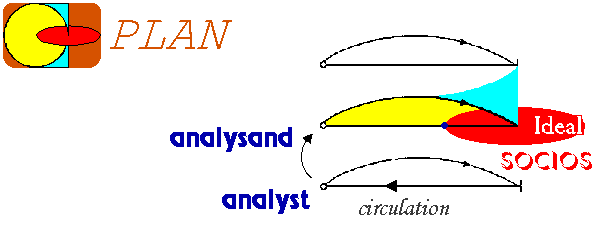 The Art of Memory model shows a series (a, So, S1, S2) rotating on a set of four places (Agent/Truth, Alter/Product).

For example, in a certain position, TRUTH of determination (S2, alias Significand Second, Behavior or Knowledge) may be signified by feed-back, clone or pollution in AGENT place (a), while in ALTER the altered Subject (adept, consumer, etc..) is eluded (So or /S/).

END OF THE PAGE
---
FOOT PAGE
EXCHANGE IDEAS, IMPROVE KNOWLEDGE

In association with the present www.akhnaton.net
CYBEK and www.dnafoundation.com offer
Registration to a Mailing List - free subscription
Where you can send and receive messages to and from the readers.
It also kep you informed with the updates of the sites
Membership access area - one time $15 fee
Where you can purchase and download e-books & e-documents
You can also follow the e-book THE VEIL in progress,
get in contact with Z.Kelper and other services
All transactions are secured
To send an email at Zenon Kelper


HOME

MAP of site

Comprehensive URLs List

MOST visited

DNAge

Membership



© William Theaux 1949-1999