visit

SOCIAL LINK's REALITY

Author : Zenon Kelper


visit
---
Freud's main concern (1920) was to link the traditional individual interest in self-psychology with sociology. For this, the concept of a Social Link has been required. Lacan's theorization (1950) and his mirroring metaphore (Optical Model) had to be completed by Verdiglione (1980) who identified the mirror itself (its unit component, 'atom' ("as-objects"), grain or individual being named 'seeming', alias 'memes'). But Freud had already drawn this link between those 'seeming persona' that he located in its Model of the Crowd.
Social link [brown links], connecting 'memes' (i.e.'ego') [red dots], while
each one tends more or less towards Object [left] or Ideal [right]

goto
all
graphs

goto
main
graphs

see
ecology

see
politics

FREUD'S MODEL OF THE CROWD
Dynamic Freudian Model of the Crowd - comment: Freud intended to represent the oscillation (fluctuation of libidinal investment) of the 'me' (alias 'memes' - red dots) between objects (left) and Ideal (right) - meanwhile a Social Link (brown) connects those 'me'. The animated illustration shows a certain extreme positions which refers the 'Freudian Transference' linking Nature and Socios in PLAN. This dynamic system of the Social Space (Re: 'geometry' sub) allows various other illustrations as following:
---
As geometrical areas/surfaces shouldered the Keplerian monocentric elucidation, the Freudian graph scan/spread surfaces, which can be called Republican Reflection beside Lacan's topos of the Real (R).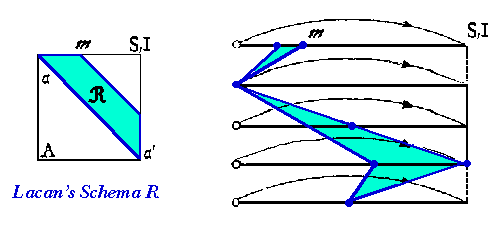 Lacanian & Freudian topology - comment: Lacan figured a projective plane (R) from a quantic rule of linguistic swaping (which is the principle of the Art of Memory s described by Yates/G.Bruno - also described in Lapreflexion). The dynamic Freudian Model of the Crowd shows likewise a Republican-reflexion plane which represents the common reality<3-link> given a social system.


END OF THE PAGE
---
FOOT PAGE
EXCHANGE IDEAS, IMPROVE KNOWLEDGE

In association with the present www.akhnaton.net
CYBEK and www.dnafoundation.com offer
Registration to a Mailing List - free subscription
Where you can send and receive messages to and from the readers.
It also kep you informed with the updates of the sites
Membership access area - one time $15 fee
Where you can purchase and download e-books & e-documents
You can also follow the e-book THE VEIL in progress,
get in contact with Z.Kelper and other services
All transactions are secured
To send an email at Zenon Kelper


HOME

MAP of site

Comprehensive URLs List

MOST visited

DNAge

Membership



© William Theaux 1949-1999