visit

TRANFERENCE

&
POLITICAL CHANGE

Author : Zenon Kelper - Editor : Leona Termini-Theaux
1st Ed:96/10/05 - Cur.Ed. 98/09/03


visit
---

Based on its primary Cybernetics Studies, Lacan's 1950 schema L (alias schema.Z) sketches the imaginary relation - between the objectifed ego (moi) and another (a'utre) ideal - related with the transference that Freud depicted in 1912 within a Collective Psychology.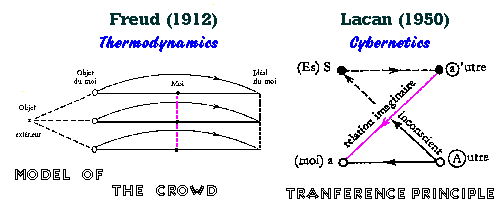 Later, Lacan represented his studies with formula of Topology - figuring threads and knots
Follow/Visit Detailed Construct Mechanism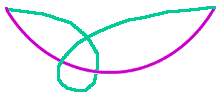 enter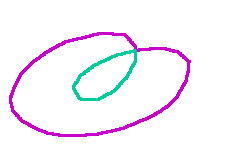 inter
Topology is an attempting way to represent Time. Along with the progress of Physics, it is opening individual and collectivity to understand and recover memory processes. Animated pictures and formula are new tools as well as new Sciences or new Mathematics. In a form of a game, they show how two different moments of thoughts (Freud, Lacan) merge in a third step
This animated pic shows
Freud's and Lacan's conceptions merging :

This transference relation has been theorized in many of Lacan's seminars (on Transference, on Fundamental Concepts, and others) and at the foundation of
Plural Psychoanalysis (PSO, Lapreflexion, and others).
It is described in the Athenian Art of Memory (allegory of Simonides' 'ek-strarior' meeting - i.e. analyst-analysand) and seen likewise in Plato's Model of The Republic - that Lacan identified with a Psychoanalytical Phase.

END OF THE PAGE
---
FOOT PAGE
EXCHANGE IDEAS, IMPROVE KNOWLEDGE

In association with the present www.akhnaton.net
CYBEK and www.dnafoundation.com offer
Registration to a Mailing List - free subscription
Where you can send and receive messages to and from the readers.
It also kep you informed with the updates of the sites
Membership access area - one time $15 fee
Where you can purchase and download e-books & e-documents
You can also follow the e-book THE VEIL in progress,
get in contact with Z.Kelper and other services
All transactions are secured
To send an email at Zenon Kelper


HOME

MAP of site

Comprehensive URLs List

MOST visited

DNAge

Membership



© William Theaux 1949-1999